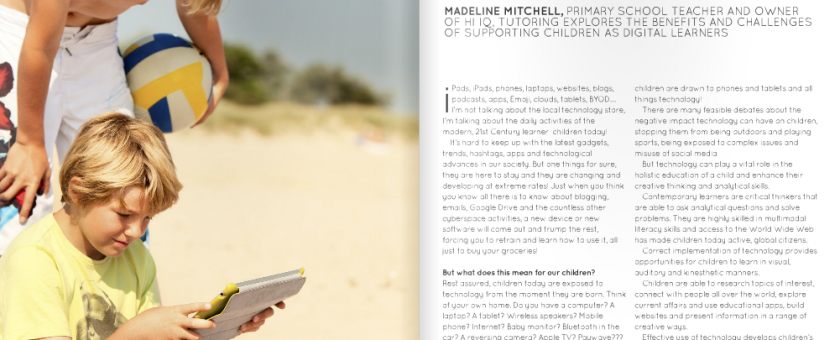 Are your kids making the most of Technology In Learning?
Technology In Learning – Transforming the way our kids learn.
iPods, iPads, phones, laptops, websites, blogs, podcasts, apps, Emoji, clouds, tablets, BYOD…. I'm not talking about the local technology store, I'm talking about the daily activities of the modern, 21st Century learner – children today!
It's hard to keep up with the latest gadgets, trends, hashtags, apps and technological advances in our society. But one things for sure, they are here to stay and they are changing and developing at extreme rates! Just when you think you know all there is to know about blogging, emails, Google Drive and the countless other cyberspace activities, a new device or new software will come out and trump the rest, forcing you to retrain and learn how to use it, all just to buy your groceries!
But what does this mean for our children?
Rest assured, children today are exposed to technology from the moment they are born. Think of your own home. Do you have a computer? A laptop? A tablet? Wireless speakers? Mobile phone? Internet? Baby monitor? Bluetooth in the car? A reversing camera? Apple TV? Paywave??? Welcome to the world the contemporary 21st Century learner, and they can't even talk yet!
Children are adaptive, fast learners and thrive off stimulation and all things technology. How many children from as young as 6 months know how to activate the iPad, and to the distress of mum and dad, even download apps! Young children are drawn to phones and tablets and all things technology!
There are many feasible debates about the negative impact technology can have on children, stopping them from being outdoors and playing sports, being exposed to complex issues and misuse of social media etc. But technology can play a vital role in the holistic education of a child and enhance their creative thinking and analytical skills.
Contemporary learners are critical thinkers that are able to ask analytical questions and solve problems. They are highly skilled in multimodal literacy skills and access to the World Wide Web has made children today active, global citizens.
Correct implementation of technology provides opportunities for children to learn in visual, auditory and kinesthetic manners. Children are able to research topics of interest, connect with people all over the world, explore current affairs and use educational apps, build websites and present information in a range of creative ways.
Effective use of technology develops children's skills in collaboration, creative thinking and problem solving, whilst engaging and motivating students in authentic learning tasks.
Here are some great Apps to support learning that are endorsed by teachers and used in Sydney classrooms:
Apps For the little ones
Reading Eggs
Parrot Fish Sight Words
Number Lines
Learning Patterns
Maths Quest
Phonics Search
For Older Kids
Wild Australia
Taronga Zoo
Times Tables
Book Creator
Stop Motion
Kids Write
SSAT Reading
Grade 4 Math
Maths Facts
iMotion