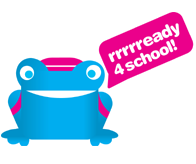 Your child deserves the best start and opportunity for school success. The first year of 'big school' can be a challenging transition for you as a parent and your child as a new student. Our Transition to School Workshops will develop your child's confidence and knowledge of the basic concepts necessary to start Kindergarten feeling 'school ready'.
These school readiness workshops focus on the foundational literacy and numeracy skills that are identified in the Australian Curriculum that will be taught in your child's first year of formal schooling.
Your child will be supported on their learning
journey and exposed to the key learning concepts that will be addressed in Kindergarten.
These include:
Letter recognition and sound/phoneme articulation using a range of programs, including THRASS
Correct letter and number formation
Fine motor development
Reading and comprehension skills
Counting and number recognition
Place value skills and mathematical concepts
Oral language skills and group interaction
Creative activities
The Transition to School Programs will be running throughout December and January holidays for children starting school in 2018 and commencing end of January for children commencing school in 2019.
$90 for a 3 hour workshop
Wednesday and Thursday 9:30-12:30
Please call or email for all bookings and enquires. Numbers are restricted and bookings are essential.
Intensive Summer Holiday Programs Running December + January
Find out about the saving available through our Loyal Learners packages!!!
info@hiiq.com.au or contact 0421 711 622 / +02 8091 7016

Both my kids have fallen in love with Hi IQ. They literally run through the door for every class and I take them out kicking and screaming at the end of the session. The teachers have a very special way of helping kids learn with such joy – it's a unique quality and one I'm glad we found. Thanks to Hi IQ, my son started Kindergarten this year with ease and my daughter is already showing a great interest in spelling and reading at the age of three. Could not recommend highly enough. - Kate Pascoe
HIIQ ticks all the boxes! Our son leaves his lessons full of excitement. It is such a treat as a parent to see his progress and absolute pride as he figures out new words and numbers. As I'm sure other parents have found, our attempts to teach at home had so often been met with a fuss or ignored, but Hunter gladly follows Madeline's instructions and enjoys the challenge. One of the most important considerations for us was for Hunter to have fun and enjoy learning in a welcoming environment, which we have certainly found at HIIQ. We have seen our son foster the skills and gain the confidence to start school soon and we are very happy to recommend HIIQ to friends - Chantal Henderson